Visiting Our Anaheim Chiropractic Practice
Since chiropractic care involves a series of visits, with each one building on the ones before, it's important that our relationship can go the distance. Our goal is to eliminate every shred of apprehension and make you feel at home.
Your First Visit
On your first visit you should expect to fill out all of the necessary paperwork or you can fill out the paperwork in the convenience of your home by printing our online forms. Next you will meet with the doctor to discuss your health concerns. After that, the doctor will examine you to determine the cause of your problem. X-rays maybe be taken at this time if necessary. Then you will be placed on therapy while the doctor reviews your x-ray and examine results. Then treatment maybe be rendered to begin the correction process.
---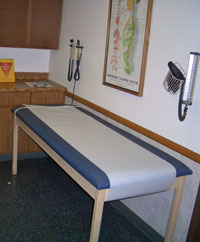 Your Second Visit and Typical Visits
On your second visit you will be placed on therapy once again. Once this is complete, the doctor will treat you. Please allow 15 – 20 minutes for this process.
A typical visit is approximately 15 – 20 minutes. With the groundwork laid, we can quickly size up the condition of your spine and nervous system, adjust you and get you back on your way.
Like a regular workout at the gym, each visit builds on the ones before. Miss a visit and you can lose the momentum necessary to make the needed changes.
We recognize your time is valuable. So we do everything possible to run on time and minimize the impact on your busy life.
Start the path to wellness today, call our Anaheim chiropractic office and make an appointment.
---